Ernest-Augustin (Auguste) Gendron (French, 1817–1881)
The Nymphs at the Tomb of Adonis, ca. 1864
Oil on canvas, 22 3/8 x 39 3/8 in.
Signed lower right: Gendron
DM437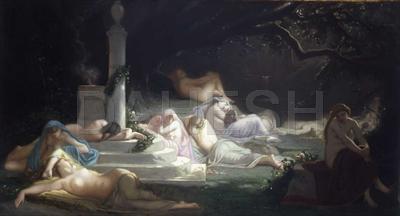 Throughout his career, Gendron painted mythological subjects, considered the highest genre in the academic tradition. The story of Adonis comes from Ovid's Metamorphoses (a favorite source of material for artists since the Renaissance). Adonis was a beautiful young hunter who became Venus's lover, but was tragically attacked and killed by a wild boar while hunting. Most artistic representations of the legend depict Venus trying to prevent Adonis from going to the hunt, Adonis's death, or Venus mourning her fallen lover. In The Nymphs at the Tomb of Adonis, however, Gendron chose to portray the fatal hunt's aftermath, with languorously reclining nymphs lamenting the loss of Adonis at the site of his grave. This subject provided Gendron with an ideal opportunity to paint sensual and erotic female nudes under the guise of Classical mythology. When Gendron exhibited this painting at the Paris Salon in 1864, the catalogue accompanied the picture with a brief evocative text: "When the night star shines on this foliage, a soft sleep follows their moaning." There is at least one other known version of this painting in the Musée des Augustins in Toulouse, France.