Alphonse-Étienne Dinet, (French, 1861–1929)
Young Girl with a Veil, 1901
Oil on panel, 13 3/4 x 10 1/2 in.
Signed and dated lower right: E. Dinet 1901
2013.3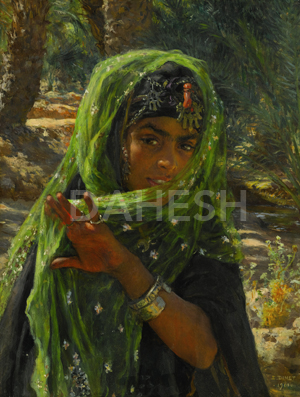 Dinet's paintings and books provided a wealth of information on the traditions and customs of the people in Algeria, a country he made his home. After studying at the Académie Julien in Paris, he made the first of many trips to Algeria in 1884 before settling there in 1904, and converting to Islam in 1913. The American art critic Frederick Morton wrote of Dinet in the journal Brush and Pencil in 1904: "No other painter has evidenced such an intimate knowledge of the East; no one has caught and recorded with such fidelity the spirit of the Orient — people, topography, atmosphere, everything in his canvases is true to fact; no one has vitalized his pictures with the breath that is not of the Occident." Young Girl with a Veil, the second painting by Dinet to enter the Museum's collection, is an exquisite example of the artist's Algerian oeuvre. Here, a bejeweled young girl coyly holds her veil across her bronzed face from the sun revealing her gentle smile and beautiful playful eyes as she gazes at us. Dinet has used this young model in many other works, including The Krouta Game (1901, private collection).