Eugène Alexis Girardet (French, 1853–1907)
Morrocan Coffee House, ca. 1874
Oil on canvas, 29 1/2 x 39 1/2 in.
1995.101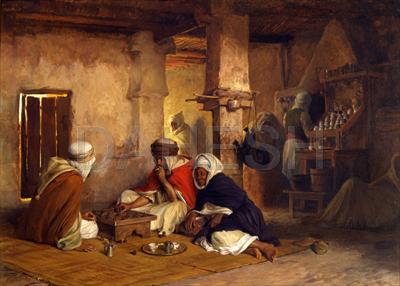 A student of Gérôme, Girardet began exhibiting Orientalist subjects from 1874. In the course of his eight visits to Algeria, he lived the nomadic life of the native population. Eventually he specialized in anecdotal scenes of the Bedouins in a picturesque style that was immediately successful. In Reed Sellers Along the Nile, as in many others, he used pure white paint to capture the areas exposed to the full brilliance of the sun. His palette became progressively lighter and his brushstroke more rapid and open.