Eugène Alexis Girardet (French, 1853–1907)
Reed Sellers on the Nile, 1897
Oil on panel, 10 1/4 x 16 in.
Signed lower right: Eugène Girardet / Aux vieux Caire 23 Décembre 1897
1995.56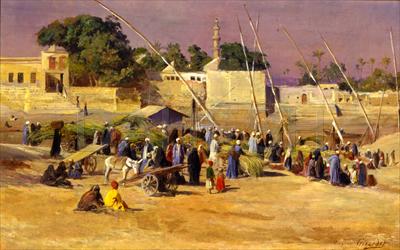 Girardet masterfully represents a native scene of reed sellers in a suburb of Old Cairo, Egypt, revealing a vivid array of figures in colorful costumes against a backdrop of sail boats on the Nile. The glimpse of a mosque in the distance completes the setting. The artist's bright palette, rapid brushstrokes, and use of pure white paint to capture the full brilliance of the sun demonstrate his superb ability to convey the effects of light and atmosphere as he experienced them in the Orient (the 19th-century term for the Middle East, Turkey, and North Africa). The portable size of this panel and its painterly quality suggests that it could have been painted en plein-air (on-site).
Born into a Swiss family of painters and printmakers, Girardet first studied with his father and later became a pupil of Jean-Léon Gérôme at the École des Beaux-Arts in Paris. Inspired by his master's Middle-Eastern voyages, Girardet toured Spain and Morocco in 1874 and, during the 1870s, made numerous trips to North Africa. He was especially drawn to Algeria, which he visited eight times, and immersed himself in its local culture. Later travels took him to Palestine, Turkey, and Egypt. Although Girardet is best known for his Orientalist scenes from daily life and desert views, he also produced landscapes of the French regions of Normandy and Calvados.