Jean-Baptiste-Claude Eugène Guillaume (French, 1822–1905)
Theseus Discovering His Father's Sword beneath a Rock, 1845
Plaster, 39 3/8 x 23 5/8 x 19 1/2 in.
Partial gift of Shepherd Gallery, New York, and Museum Purchase
2005.32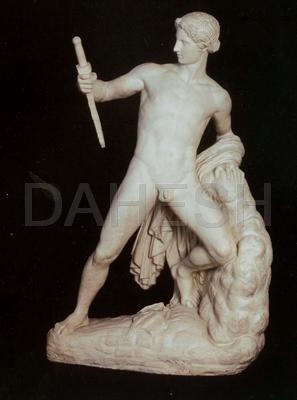 Theseus was the son of the Athenian king Aegeus, but was raised far away by his grandfather. When Theseus reached maturity, his mother directed him to lift a heavy rock that hid the sword and sandals his father had left behind as tokens of his royal descent. Theseus then started his adventurous journey to Athens, where Aegeus recognized him as his son because of the sword, and declared him his successor.
With this work, the young Guillaume won the Prix de Rome competition at the École des Beaux Arts in Paris, which awarded him a five-year residency at the Villa Medici and made possible his first hand study of masterpieces from antiquity and the Renaissance. Fortunately, Guillaume made a cast for himself of the prize-winning sculpture that was kept by the École. That original, however, was irreparably damaged during the student riots of 1968. This cast, which descended through the artist's heirs, is the only complete rendition of the work. Guillaume, who was a student of James Pradier (1790–1852), later worked on major commissions for the Paris Opéra, the Louvre, the Bourse, and various churches in Paris. He served as the director of the École des Beaux Arts from 1864 to 1878.