Evariste Luminais (French, 1821–1896)
Merovingians Attacking a Wild Dog, ca. 1875–85
Oil on canvas, 23 1/4 x 33 1/2 in.
DM735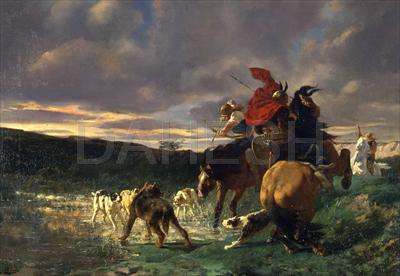 A student of history painter Léon Cogniet and animalier Constant Troyon, Luminais was particularly interested in the age of the Merovingians, a dynasty of Frankish kings that ruled from 481 to 751 AD. Early in his career, Luminais painted several contemporary hunting and peasant scenes set in his native Brittany. By adding a historical dimension to such works, he raised these genre scenes to the level of history painting, which was generally held in higher esteem by the Academy.