François-Joseph Bosio (French, 1768–1845)
The Virgin Mary, 1843
Marble, 22 7/16 x 12 x 11 1/2 in.
2001.6 a, b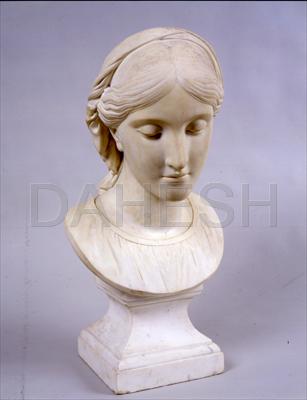 Bosio's sculpture exemplifies the neoclassical approach to religious subjects. The Virgin has the perfectly finished and idealized proportions of a Greek goddess, but her headscarf and covered chest, humble, downcast eyes, and serene expression suggest her holy identity. Bosio kept this sculpture in his studio until his death, but exhibited a slightly different variant of it at the Paris Salon of 1843 (Paris, Musée du Louvre).
Nicknamed both the "French Canova" and the "Ingres of sculpture" for his cool, disciplined style, Bosio became a professor at the École des Beaux-Arts in 1817. He was appointed First Sculptor to King Louis XVIII (reigned 1814–24), and was made a baron by Charles X (reigned 1824–30). King Louis-Philippe (reigned 1830-48) stripped Bosio of these titles but still recognized him as France's premier neoclassical sculptor, purchasing the Salon version of The Virgin Mary.