François-Joseph Navez (Belgian, 1787–1869)
The Holy Family with Saint John the Baptist and Saint Elizabeth, 1823
Oil on canvas, 53 15/16 x 42 1/8 in.
Signed and dated lower left: F. J. NAVEZ. 1823
2001.18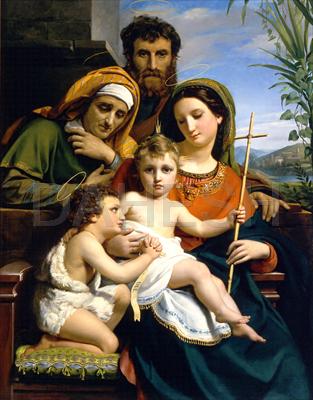 After studying with Jacques-Louis David (1748–1825), Navez left for Rome in 1817, where he was influenced by Ingres and the Renaissance masters. When he returned to Brussels in 1822, an Amsterdam Jesuit, Albert Roothaan, commissioned him to paint three religious pictures for one of the many hidden Catholic churches in the predominantly Protestant Northern Netherlands. One was the present painting, a Raphaelesque composition centered on the magnetic gaze of the Infant Christ. The influence of Italy is further seen in the southern landscape, as well as in the costumes, which the catalogue of the 1824 Paris Salon associated with Sonnino, a small town south of Rome.