François-Léon Benouville (French, 1821–1859)
Portrait of Leconte de Floris in an Egyptian Army Uniform, 1840
Oil on canvas, 52 3/4 x 35 1/2 in
Signed and dated lower left: BENOUVILLE / 1840
1997.34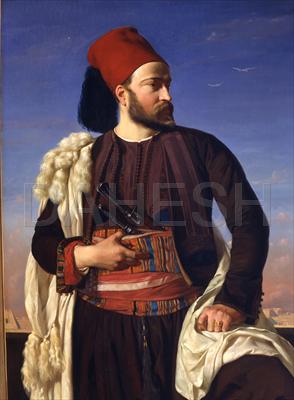 This striking portrait was completed by Benouville around age 19, while he was likely still a student at the École des Beaux-Arts. The sitter was one of the French military officers sent to Egypt as envoys of King Louis-Philippe to thank the Viceroy Muhammad Ali Pasha, for donating the ancient Obelisk of Rameses II, erected in Paris's Place de la Concorde in 1836. There are two preparatory sketches in the archives of the Louvre that show the sitter wearing a large turban, which in the final painting was transformed into a large red fez. These drawings come from the notebooks of Benouville's brother.