François-Léon Benouville (French, 1821–1859)
Portrait of Leconte de Floris in an Egyptian Army Uniform, 1840
Oil on canvas, 52 3/4 x 35 1/2 in
Signed and dated lower left: BENOUVILLE / 1840
1997.34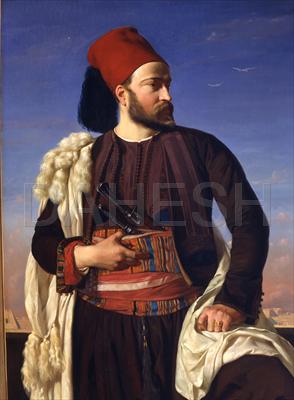 The sitter for this portrait was one of the French military officers sent to Egypt as envoys of King Louis-Philippe to thank Pasha Muhammad Ali for donating the ancient Obelisk of Rameses II, erected in Paris's Place de la Concorde in 1836. Benouville entered the École des Beaux-Arts in 1837 as a student of Édouard Picot (1782–1875), and after several attempts, went on to share the prestigious Prix de Rome in 1845 with Alexandre Cabanel (1823–1889). In 1852 he and Cabanel executed several decorative paintings (now destroyed) for the Hôtel de Ville in Paris, but few large-scale compositions by this artist survive. Considered by many to be among the most promising history painters of his time, Benouville died of typhoid fever at the age of thirty-eight.