François-Pierre-Bernard Barry, Egypt (French, 1813–1905)
The Caravan, Egypt, 1863
Oil on canvas, 37 3/4 x 59 7/8 in.
Signed, dated, and inscribed lower right: Barry 1863 / Egypte
DM794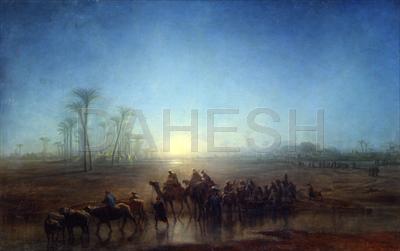 Born in Marseille, Barry was known primarily for his landscapes and marine paintings, the harbor of his native city being one of his favorite subjects. Barry's work was highly regarded by the Second Empire (1851–1870) regime, and an 1862 government commission to record the building of the Suez Canal (1859–1869) brought him to the Middle East in the company of Prince Jérôme Napoléon. Barry was immediately captivated by the region's luminous colors and endless desert vistas and made a number of paintings during his stay, including views of Karnak and the first cataract of the Nile. He also created several commemorative paintings for the Suez Canal Company that were exhibited at the Salon of 1863. This moody and evocative painting of Bedouins tending their herd demonstrates Barry's deft handling of atmosphere and light.