Frederick Arthur Bridgman, (American, 1847–1928)
An Oriental Beauty
Oil on canvas, 26 x 32 in.
Signed lower left: F. A. Bridgman
2012.16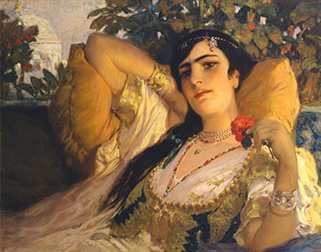 Bridgman's Oriental Beauty displays his familiarity with the Algerian women he saw and the outfits they wore, as he noted in his book Winters in Algiers (1888) "the height of fashion is to wear everything of the same color, for instance yellow head kerchief bordered with gold and silk fringe, yellow ribbons to ornament the thin chemise, yellow silk bodice, pantaloons of the same color, and yellow leather slipper." Dressed in color-coordinated and fashionable dress, and adorned with opulent accessories, Bridgman's beauty languidly reclines in a state of reverie, while her hand gently holds a flower, suggesting she may be dreaming of a lover — an Orientalist trope that catered to 19th-century Western viewers' expectations.
Among the most famous American Orientalist painters, Bridgman first studied at the National Academy of Design in New York and in 1866 went to Paris where he studied with Jean-Léon Gérôme for four years. From 1872, he made numerous trips to North Africa and Egypt, and eventually settled in France. He exhibited Orientalist subjects regularly at the Paris Salons, the Royal Academy of London, and at private galleries that he rented in Chicago, New York, and Paris. Bridgman became Officer of the Legion of Honor in 1907.