Frederick Arthur Bridgman (American, 1847–1928)
Pensive Moments
Oil on canvas, 22 x 18 1/2 in.
2013.2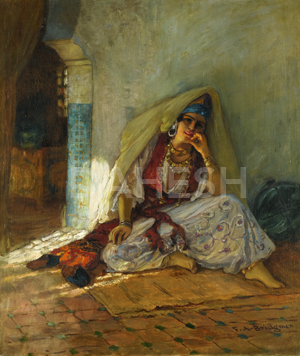 Bridgman, a renowned late 19th-century American painter, chose to live in France and devote himself to Orientalist subjects — especially North African scenes of daily life. In Pensive Moments, he presents a favorite subject, a North African woman in exotic dress with gauze sleeves, a bodice over her shoulders, and a conical hat usually worn by the women of Tlemcen — a town in northwestern Algeria. Bridgman described the costume in his book Winters in Algiers (1888), commenting that it resembled Moroccan dress because the Algerian city was near the Moroccan border. This recent acquisition — the third oil painting by the artist to enter the Museum's collection — exemplifies Bridgman's later naturalistic style. During the 1880s a freer and more painterly style replaced the meticulously polished compositions influenced by his teacher Jean-Léon Gérôme — as in An Oriental Beauty (in the Museum collection). Bridgman infuses this composition with sunlight pouring through the doorway to illuminate the seated woman who appears to be lost in thought.