Frederick Arthur Bridgman (American, 1847–1928)
Cleopatra on the Terraces of Philae, 1896
Oil on canvas, 29 7/8 x 46 1/8 in.
Signed and dated lower right: F. A. Bridgman / 1896
1999.5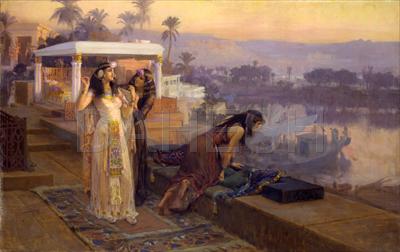 While Bridgman specialized in scenes from daily life in North Africa—especially its women—this painting is one of several imaginary historical scenes set in ancient Egypt. Cleopatra prepares her departure by boat from the idyllic island of Philae, now best known for its ruins of the Kiosk of Trajan, here depicted in the far left background—which was not actually built until a century after Cleopatra's reign. After being shown at the Paris Salon of 1896, this painting was exhibited at the National Academy of Design in New York the following year, and eventually acquired by William Randolph Hearst, who hung it at San Simeon, his castle on the California coast.