Frederick Arthur Bridgman (American, 1847–1928)
Cleopatra on the Terraces of Philae, 1896
Oil on canvas, 29 7/8 x 46 1/8 in.
Signed and dated lower right: F. A. Bridgman / 1896
1999.5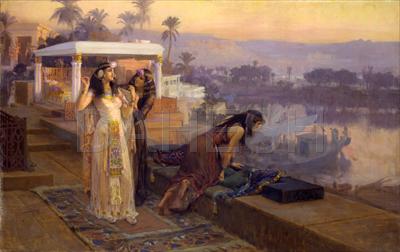 Born in Alabama, Bridgman worked as an engraver and trained at the National Academy of Design in New York, before receiving a scholarship in 1866 to study with Jean-Léon Gérôme (1824–1904) at the École des Beaux-Arts in Paris. He started traveling, first to Spain and then to Algeria and Egypt in 1872–73. He subsequently focused on Orientalist subjects for his paintings and filled his two Paris studios with countless objects brought back from his various travels. John Singer Sargent is said to have declared Bridgman's studio to be one of the two things a visitor to Paris must see, the Eiffel Tower being the other.
This painting from Bridgman's later career harkens back to his earlier Salon successes, and is a purely imaginary scene set in ancient Egypt. Cleopatra prepares her departure by boat from the idyllic island of Philae, now best known for its ruins of the Kiosk of Trajan, here depicted in the far left background. After being shown at the Paris Salon of 1896, this painting was exhibited at the National Academy of Design in New York the following year, and eventually acquired by William Randolph Hearst, who hung it in his castle at San Simeon, California.