Frederick Goodall, R.A. (British, 1822–1904)
Egyptian Pilgrims Arriving at an Inn
Oil on panel, 8 x 10 7/8 in.
Signed lower left: F Goodall RA
1997.11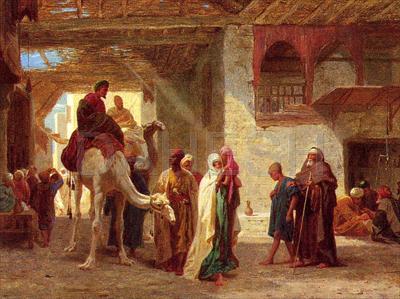 Many Victorian artists' interest in Egypt stemmed from its Biblical history, and Frederick Goodall was highly acclaimed for this very genre. He first visited Egypt in 1858–59 for the "sole objective … to paint scriptural subjects." He lived in the Coptic quarter of Cairo with his Bavarian-born friend, the Orientalist painter Carl Haag, who had also worked in England. Egyptian Pilgrims Arriving at an Inn has all the elements that appealed to the Victorian public: the grace and nobility of the Egyptian figures and a combination of sumptuous light, serenity, and peace that infuses the composition with a spiritual sensibility. Son and pupil of the painter Edward Goodall, Frederick Goodall first exhibited at the Royal Academy in 1838. His early works were mainly rural genre scenes and landscapes based on sketching trips made between 1838 and 1857 in Normandy, Brittany, Wales, Ireland, Scotland, and Venice. After establishing his reputation as an Orientalist painter, following his first visit to Egypt, Goodall returned once more in 1870–71, spending three months in a Bedouin campsite; he even sent home Egyptian sheep and goats to ensure the accuracy of his exotic scenes. In 1858 Goodall was elected Associate Member of the Royal Academy (ARA) and in 1863 Royal Academician (RA).