Frederick Richard Pickersgill (British, 1820–1900)
The Dance to Colin's Melody, 1850
Oil on panel, 30 1/4 x 56 1/4 in.
Signed and dated lower right: F.R. Pickersgill ARA 1850
DM58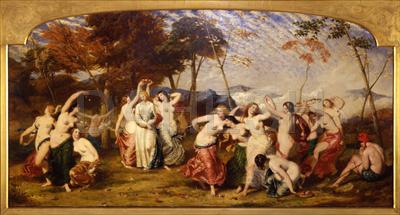 Pickersgill, a history painter who specialized in mythological and medieval subjects, rose to prominence in the London artistic scene in the 1840s, especially after his painting The Death of Harold was purchased for the Houses of Parliament in 1847. He was elected a Royal Academician in 1857 and in 1874 was appointed Keeper and Trustee of the Academy. The works of John Milton, Edmund Spenser and Shakespeare provided Victorian artists with many dramatic and fanciful themes for their paintings.
Pickersgill had a particular fondness for motifs based on The Faerie Queene, Spenser's 16th century epic poem. The Dance to Colin's Melody was loosely inspired by book VI, canto X, verses 6-18, in which the knight Calidore spies the three Graces and a bevy of nymphs dancing to the pipes of Colin Clout, a pseudonym for Spenser himself:
Unto this place when as the Elfin Knight
Approcht, him seemed that the merry sound
Of a shrill pipe he playing heard on hight
And many feete fast thumping th'hollow ground,
That through the woods their Eccho did rebound.
He nigher drew, to weete what mote it be;
There he a troupe of Ladies dauncing found
Full merrily, and making gladfull glee,
And in the midst a Shepheard piping he did see.