Gabriel-Joseph-Marie-Augustin Ferrier (French, 1847–1914)
Putti (Study for the ceiling decoration of the dining room at the Hôtel d'Orsay), ca. 1900
Ink on paper, 13 5/8 x 15 1/2 in.
Gift of Shepherd Gallery, New York
1995.118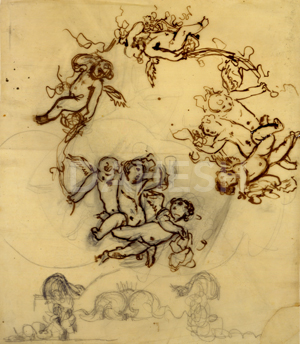 In preparation for the 1900 Exposition Universelle in Paris, plans were made to build a vast new train station and adjoining hotel, on the site of the former Palais d'Orsay (today the Musée d'Orsay). By 1898 construction had begun, and Ferrier was asked to design murals for the dining room of l'hôtel du Palais d'Orsay, focusing on the theme of the four seasons and the days. The drawing in the Dahesh Museum of Art is a preparatory study for this project, showing a cluster of putti dancing across the sky and recalling Ferrier's ceiling paintings in the Opéra Comique theatre in Paris. This arrangement of putti, however, did not persist into the final painting and a study in the Musée D'Orsay shows how Ferrier thinned out the group and moved several angels to different locations. In the final painting there are even fewer angels, instead replaced by allegorical female figures and a prominent Cupid, who with the remaining putti maintain the circular composition seen in this study.