Georges Jules Victor Clairin (French, 1843–1919)
Battle of Arabs 
Oil on canvas, 29 3/4 x 48 in.
Signed lower left: G. Clairin
DM 64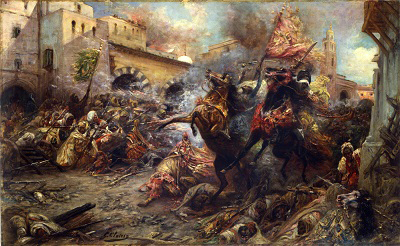 From the moment he arrived in North Africa in 1869 in the company of his friend Henri Regnault (1843–1871), Clairin was infatuated with his exotic surroundings. Their stay was cut short by the Franco-Prussian War (1870–71), in which both fought and Regnault was killed. Clairin returned to Morocco after the war and stayed there for 18 months, absorbing the sights in Tangier, Fez, and Tetuan. Some of the more thrilling events he witnessed during his sojourn in Morocco were the equestrian entertainments known as fantasias (from the Arabic fantaziya, or "ostentation"). These were staged battles, often involving hundreds of Arab horsemen galloping and shouting while brandishing and discharging their weapons. Memories of these exciting mock confrontations could have informed Clairin's vigorous painting, where the frenzied action seems ready to spill out of the canvas.
The witty and elegant Clairin was well known in Parisian literary and artistic circles and was a great friend of the actress Sarah Bernhardt (see the painting of her by René Lelong). He treated all of his varied subjects – masked fêtes, dancers, flowers, genre scenes, and landscapes – with theatrical flourish. Among the many commissions he received was a decorative cycle depicting the 12 months for the Salon du Glacier at the Paris Opéra.