Giuseppe Cammarano (Italian, 1766–1850)
Lot and His Daughters, (detail) 1821
Pen and brown ink, brown wash, heightened with white; framing lines in pen and
brown ink, 12 3/8 x 16 3/8 in.
Signed and dated in pen and brown ink lower left: Giuseppe Cammarano 1821
2012.2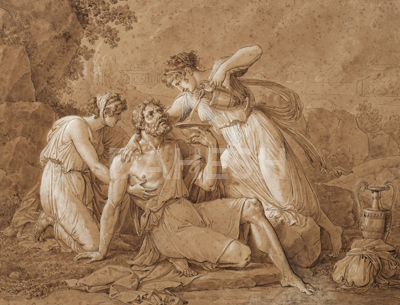 Recently acquired, Giuseppe Cammarano's highly finished drawing is an impressive Neoclassical interpretation of the well-known subject of Lot and his Daughters described in Genesis 19:30-36. After fleeing the burning city of Sodom and taking refuge in the mountains, Lot's daughters believed they must become pregnant from their father to perpetuate the human race. They got their father drunk, mated with him, and each bore him a son, Moab and Ammon. The subject has been popular since the Renaissance, and was treated by such masters as Orazio Gentileschi in the 17th century (The J. Paul Getty Museum). Here, Cammarano emphasizes the seduction scene by placing the protagonists in the foreground, with one daughter pouring wine for her father, and the other touching his body. The artist deftly uses white highlights to illuminate the figures and direct the viewer's gaze within the scene.
The son of an actor, Cammarano was an esteemed painter in Italy in the first half of the 19th century, especially popular for his portraits of the aristocracy, decorations of many palace interiors, and the ceiling painting in the San Carlo Opera House in Naples.