Guglielmo Innocenti (Italian, active in Rome in the second half of the 19th century)
The New Model, ca. 1875
Oil on panel, 11 1/2 x 16 in.
Signed lower right: Innocenti; inscribed in ink on reverse of panel: G. Innocenti / Price Three Hundred and Fifty Guineas / [The New] Model
1997.20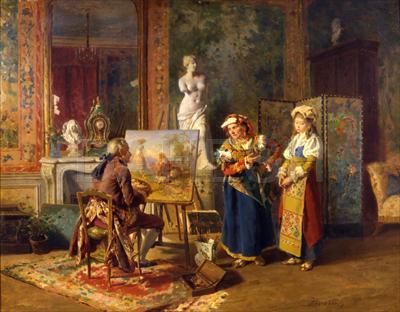 In The New Model, an artist, dressed in an embroidered purple satin coat and breeches, sits before his easel in a lavishly-decorated Rococo interior. Such historic genre scenes became wildly fashionable throughout Europe as contemporary bourgeoisie looked upon the 18th century with nostalgia, seeing the aristocracy as their predecessors in luxurious materialism, striving to emulate their taste and elegance.
The New Model also depicts another popular 19th-century subject: the Italian peasant. Valued as artists' models in both Rome and Paris, Italian peasants were thought to be unspoiled by industrial cosmopolitanism and thus more closely tied to the classical past. Two such Italian models (the younger one likely the namesake of the image) wearing the Italian peasant's costume that enthralled artists (particularly the French) for its bright colors and narrow skirt stand before the elegantly-garbed artist in The New Model.