Gustav Crauk (French, 1827–1905)
Maréchal Adolphe Niel, 1860
Plaster, 21 1/4 x 9 x 9 1/2 in.
Gift of David and Constance Yates
2004.4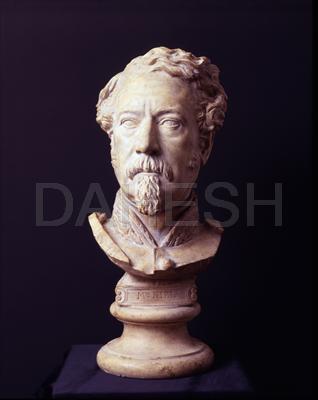 Born in Valenciennes, Crauk trained at the École des Beaux-Arts in Paris with Augustin Dumont (1801–1884) and Etienne Ramey fils (1796–1852), as well as Jean-Jacques Pradier (1790–1852). In 1856 he won thePrix de Rome and stayed in Italy until 1856, when he embarked upon a successful and prolific career in France, receiving many commissions for public buildings as well as portraits. The sitter for this bust, Adolphe Niel (1802–1869), had a distinguished engineering and military career and was a trusted advisor to Emperor Napoleon III. Niel's role in the battle of Solferino earned him the high military distinction of Maréchal de France. This battle, which occurred on June 24, 1859, was the decisive episode in the struggle for Italian unification. The French under Napoleon III, allied to the Sardinians, faced the Austrian troops, resulting in a fierce battle in which 6,000 men lost their lives and 40,000 more were wounded. A marble version of this bust was acquired for the museum at Versailles in 1860, and was exhibited at the Salon of 1861.