Gustave Doré (French, 1832–1883)
The Massacre of the Innocents, ca. 1869–72
Pen, ink and ink wash heightened with white on wove paper, 22 x 33 in.
1997.40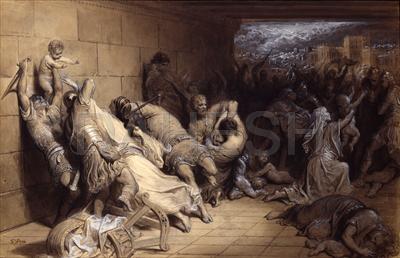 Gustave Doré, perhaps the 19th century's most prolific illustrator, created a renowned series of illustrations for the Bible in 1866. After Paris critics repeatedly disparaged his attempts at ambitious history painting, he opened the Doré Gallery in London and became a critically and commercially successful artist there. The public came en masse to see his paintings, paying one shilling for the privilege. A notable characteristic of Doré's Biblical paintings was their monumental size, which suited Doré's vision of the Bible. Full of dramatic incident, large crowds, detailed costumes, and architecture, they were the late 19th-century equivalent of cinematic blockbusters.
Doré's emphasis on vivid action over intimate scenes is evident in this reduced version of The Massacre of the Innocents, which in its original form measured 12 x 17 feet. It depicts the slaughter of male infants in Bethlehem ordered by King Herod (Matthew 2:16-18). Although it differs substantially from the same scene in Doré's edition of the Bible, it does repeat the group on the left, showing a mother struggling valiantly to save her child, cruelly held just beyond her reach by a knife-wielding soldier.