Gustavo Simoni (Italian, 1846–1926)
Arab Village Scene, 1883
Oil on canvas, 23 3/4 x 18 3/4 in.
Signed and dated lower right: G. Simoni 1883
1997.42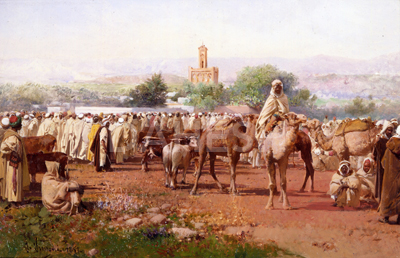 As with most of Simoni's Orientalist scenes, there is a documentary quality to his Arab Village Scene. The palette is restrained, basically sandy colors (similar to his Arab Market Scene, also in the museum's collection and produced in the same year). The image's emphasis is not on individual figures but on the terrain, costumes, and general atmosphere of the exotic locale. It is a scene of everyday life, likely depicting a cattle market on the outskirts of a village. A mass of cloaked and hooded men have gathered, standing around a cluster of brown and white cattle, while a similarly cloaked man sits astride a camel in the foreground, with two rider-less, saddled dromedaries around him. Simoni would have had ample opportunity to experience a quotidian scene like this first-hand. He spent two years in Tunisia and Algeria in 1877–79 and took additional, shorter trips to the region in the 1880s, sketching observations throughout his travels.