Hans Andersen Brendekilde (Danish, 1857–1942)
Abel's Offer, 1908
Oil on canvas, 30 5/16 x 55 1/2 in.
Signed lower left: H.A. Brendekilde
1995.100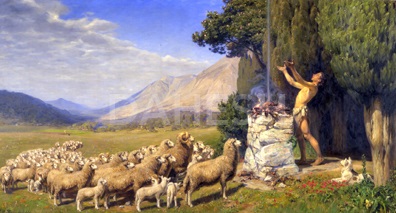 In the 1890s, Brendekilde began to paint religious subjects, which often echo earlier genre scenes then infused with spirituality. Abel's Offer is not situated within the contemporary world, however, but relates the biblical story from Genesis (4:3-5) when Abel, one of Adam and Eve's sons and a shepherd, offers to God. While God accepts Abel's offering, he rejects the offer of Abel's brother Cain, a farmer, who in a fit of rage murders his brother—an episode that Brendekilde dealt with in his earlier painting, Cain Working in the Field After Having Killed His Brother Abel (1896, Frimurerlogen Cimbria, Aalborg). In the left background of Abel's Offer, Brendekilde refers to his earlier painting through the figure of Cain standing amid the tilled earth but avoids the drama and psychological exploration typically found in representations of the biblical brothers—and which he addressed in his earlier painting. Rather than focus on Cain's treacherous act of fratricide or subsequent remorse, Brendekilde concentrates on the beauty of the landscape and the relationship of man and animal, acknowledging the legacy of the Golden Age of Danish painting (roughly the first half of the 19th century), when artists used landscape to create a new national identity.