Henri Fantin-Latour (French, 1836–1904)
Andromeda
Oil on canvas, 22 x 19 in.
Signed lower left: Fantin
2012.11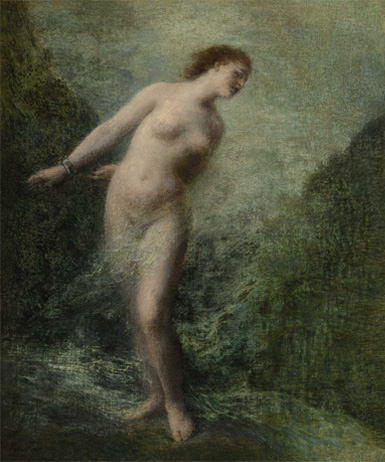 Perhaps best known for his portraits and flower paintings, Fantin-Latour also composed many allegorical or mythological subjects. Often inspired by the work of composers like Richard Wagner, Hector Berlioz, or Robert Schumann, their light color palette and loose brushwork gives them an effect often described as "dream-like." The subject of this recent acquisition — the second work by Fantin-Latour to enter the Museum collection — comes from the famous Greek myth recounted by Sophocles and Euripides. Andromeda, the Ethiopian king's beautiful daughter, is stripped naked and chained to a rock as a sacrifice to a sea monster but is ultimately saved by the hero Perseus, who later married her. The story of Andromeda and Perseus was popular in European painting for centuries, providing artists the opportunity to explore the female nude, as in, for example, the Museum's Andromeda Chained to a Rock by Henry-Louis Picou — a dynamic composition showing the moment when Perseus confronts the monster and rescues Andromeda. Here, Andromeda appears chained, her graceful body contrasting with the anguish in her face, but the indistinct setting offers no glimpse of the approaching monster or miraculous approach of Perseus.