Henri Fantin-Latour (French, 1836–1904)
Scene from Oberon, 1869
Oil on canvas, 12 3/4 x 9 1/2 in.
Signed, lower center: Fantin; dated upper left: 7 Janvier 69
2002.39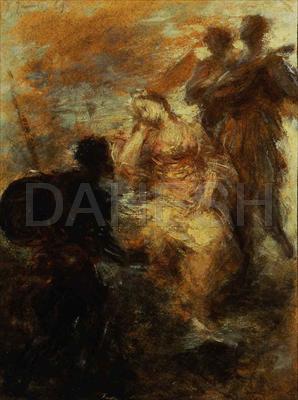 Even though he is often identified with the Impressionists, Fantin-Latour never painted outdoors, preferring literary subjects, still lifes, and portraits painted in his studio. His dreamlike visions paved the way for the Symbolist movement. Reminiscent of his better-known compositions inspired by Richard Wagner's operas, this painting presents a scene from Carl Maria von Weber's opera Oberon, or The Elf King's Oath, which premiered in London in 1826. Fantin-Latour chose the moment when the knight Huon of Bordeaux falls in love with Reiza, the daughter of the Caliph of Baghdad, who first appears to him in a dream. This painting once belonged to Roger Marx, an important French critic and collector. He organized the Paris Exposition Universelle in 1889, and was a great champion of avant-garde artists like Paul Cézanne.