Henri Gervex (French, 1852–1929)
Study for Le blessé de guerre (The War Wounded)
Charcoal, red and white chalk on blue paper, 11 x 18 in.
Signed with initial, lower left: H. G.; inscribed lower right: Étude pour le blessé de guerre
Gift of DeCourcy E. McIntosh
2003.36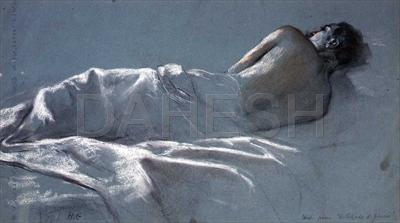 Gervex was a student of Alexandre Cabanel (1823–1889) and, like his master, enjoyed a long career full of official honors and commissions. Also like Cabanel, Gervex made the nude one of his favorite motifs; he paid homage to one of the elder artist's most famous paintings, The Birth of Venus, with his own image of the goddess in 1896 (Musée du Petit Palais, Paris). In this drawing, which relates to a series of pictures inspired by World War I, the sinuous curve of the wounded male soldier—so similar to those of Gervex's other nudes—belies the image's somber theme.