Henri Godet (French, 1863–1937)
The Abduction of Psyche, ca. 1896
Bronze, 33 1/2 x 12 x 11 in.
Inscribed bottom right: W. BOUGUEREAU P. / H. GODET SCPT / Salon des Beaux-Arts 1896. Foundry mark bottom right: E. Schmoll 80 RUE DE TURENNE Paris
1995.30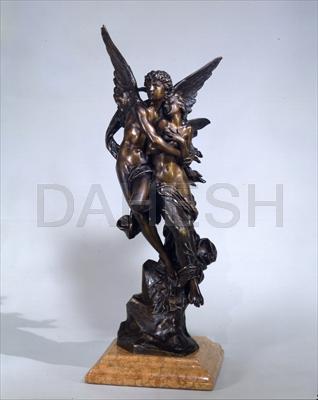 The love story of Cupid and the beautiful princess Psyche was a popular theme among many 19th-century artists. Godet's bronze sculpture was, in fact, inspired by William Adolphe Bouguereau's large painting The Abduction of Psyche — and acknowledged by the artist on the base. The Roman writer Apuleius recounted the myth in The Golden Ass (also titled Metamorphoses), subsequently retold by others, including Jean La Fontaine in The Loves of Psyche and Cupid — which most likely inspired this work. Godet's mastery is evident in the challenging representation of a gravity-defying figural group, especially in the modeling of Cupid, with his pointed wings, upward gaze, bulging drapery, curved body, and bent right knee. Transporting Psyche into higher spheres is skillfully told within the materiality of the heavy bronze.
Little is known about Godet, a sculptor and medal engraver best known for his small bronzes of women, especially "women-flowers." According to a 19th-century advertising brochure — which he published — Godet had multiple talents. He identified himself as a specialist in decorative sculpture, medal engraving, tomb monuments, busts, medallions, and reproductions of ancient sculpture.