Henri Lehmann (German/French, 1814–1882)
The Adoration of the Magi, 1854
Oil on canvas, 38 3/4 x 51 3/8 in.
Signed and dated lower left: Henri Lehmann, 1854
2003.5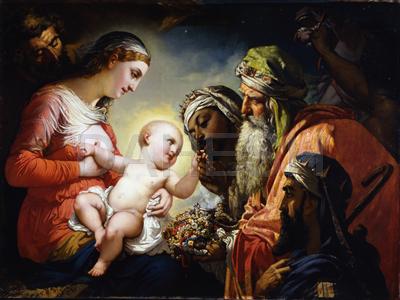 Besides his teacher Ingres, Lehmann admired the painters of the early Florentine school, as well as the religious art of the German Nazarenes. Religious imagery played a key role in his oeuvre, and he contributed numerous murals to the decorative programs of churches in Paris, including Saint-Merri in 1842 and Saint-Louis-en-Île in 1847. This painting, exhibited in 1855 at the Salon, was likely destined for the walls of a wealthy patron's home or private chapel, rather than a church. In his depiction of the Magi (the three wise kings who followed the star to Bethlehem), Lehmann observes the tradition of Peter Paul Rubens (1577–1640), who was among the earliest Western artists to use physiognomy and costume to differentiate and orientalize Magi figures. Critic Théophile Gautier praised Lehmann's ethnographic efforts, but the artist also remained true to his master, giving the Virgin a classical profile of which Ingres would surely approve.