Henri Regnault (French, 1843–1871)
A Spaniard, ca. 1869
Oil on canvas, 20 1/16 x 12 3/16 in.
Signed lower right: Henri Regnault
2002.18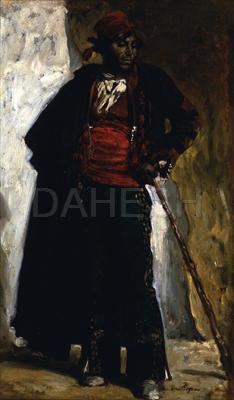 A student of Alexandre Cabanel (1823–1889), Regnault won the Prix de Rome in 1866. Rather than spending the duration of his scholarship in Italy, he requested and received permission to visit Spain. During his first trip there in late 1868, he became fascinated by the various Spanish "types" he encountered, particularly the exotic toreadors in their colorful costumes. Via Granada, he went on to Morocco and, together with his friend Georges Clairin (1843–1919), established a house and studio in Tangier where they intended to stay indefinitely. At the outbreak of the Franco-Prussian War in 1870, however, Regnault volunteered for military service and returned to France. Shortly before the end of the war he died in battle at age 27.