Henry-Louis Dupray (French, 1841–1909)
Sketch for Marshal Ney at Waterloo, 1869
Oil on canvas, 48 1/4 x 64 in.
DM12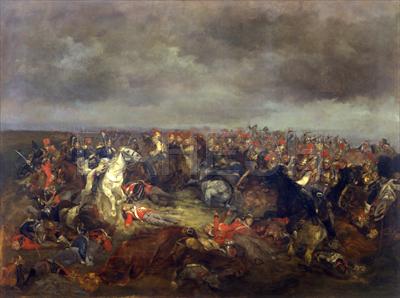 Dupray studied with Léon Cogniet (1794–1880) and Isidore Pils (1813–1875) and specialized as a military painter, after a fall from his horse thwarted his wish to become a soldier. He first exhibited at the Salon of 1863, and returned in 1870 with Marshal Ney at Waterloo (location unknown). The present work is a sketch for the Salon painting, and was at one time in the collection of Édouard Detaille (1848–1912), one of the most famous French military painters.
This image documents a scene during the battle at Waterloo (1815) that ended Napoleon's military power. Marshal Michel Ney led several massive cavalry assaults against the allied lines, but ultimately to no avail. A loyal Bonapartist, Ney would be executed for treason in 1815 by the Bourbon regime. He became a popular figure during the Second Empire (1852–1870) and was memorialized for posterity in a heroic statue (1853, Place de l'Observatoire, Paris) by François Rude.