Henry-Pierre Picou (French, 1824–1895)
Andromeda Chained to a Rock, 1874
Oil on canvas, 47 3/8 x 33 3/8 in.
Signed lower right: Henry Picou / 1874
DM730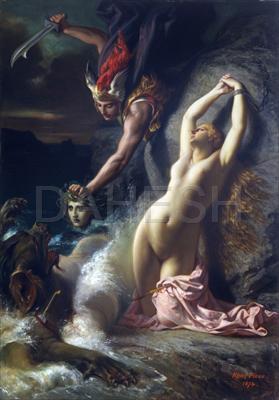 Exhibited at the Salon of 1875, Andromeda Chained to a Rock depicts the warrior Perseus, son of Zeus and the mortal Danaë, rescuing Andromeda from a fierce sea monster. Perseus brandishes the severed head of Medusa, which had the power to turn all who gazed upon it to stone. Picou organized his composition along a forceful diagonal axis, countering the downward thrust of Perseus's muscular arm and sword with the tormented Andromeda's voluptuous torso and upswept arms.
The myth of Andromeda originated with Sophocles and Euripedes, and has been a popular subject of representation since Antiquity (it appeared on mid-sixth century BCE black-figure vases as well as in frescoes at Pompeii), but the emphasis on the incident of Perseus's rescue arose in 16th-century Venice, in the works of Titian (Perseus and Andromeda, ca. 1554–56, Wallace Collection, London) and Veronese (Perseus and Andromeda, 1584, Musée des Beaux-Arts, Rennes). In the 19th-century, the myth of Andromeda held particular appeal for artists (see also Henri Fantin-Latour's Andromeda, 1902, in the Dahesh Museum collection), because it presented artists with a credible reason for depicting the female nude (Andromeda was ordered to be chained to a rock, naked, as sacrifice to a sea monster to atone for her mother's boasting that she was more beautiful than the Nereids—sea goddesses). While the myth of Andromeda is the most commonly depicted, it was not the only tale justifying 19th-century female nudity (a similar example Jean-Auguste-Dominique Ingres's Roger Freeing Angelica, 1819, Louvre, Paris).