Henry-Pierre Picou (French, 1824–1895)
Innocence Seduced by Love, 1886
Oil on canvas, 25 1/2 x 32 in.
Signed lower center: Henry Picou 1886
DM94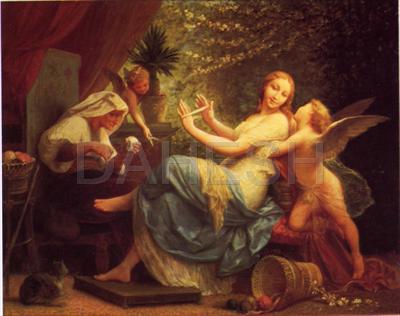 Innocence Seduced by Love, an allegory of seduction, is filled with telling iconographic details: the overturned basket of roses, the cat, and a winged cupid about to cut the yarn. A smiling, seated maiden turns toward Cupid as he fondles her breasts, while the old woman (representing traditional moral standards) does not see the transgression of pre-nuptial chastity—symbolized by the cut yarn. Picou was inspired by a long line of artists who painted this popular theme, such as Jean-Baptiste Greuze in his Broken Eggs (1756, Metropolitan Museum of Art), yet he does so without the moral interdiction of earlier generations. In Picou's version, the action takes place in an unspecified outdoor setting, as a playful, sensuous scene, not meant to shock or to impart a moral tale, but merely to titillate and entertain its knowing male audience.