Hermann-David-Solomon Corrodi (Italian, 1844–1905)
Campfire by the River: The Kiosk of Trajan at Philae
Oil on canvas, 33 x 25 1/2 in.
1995.20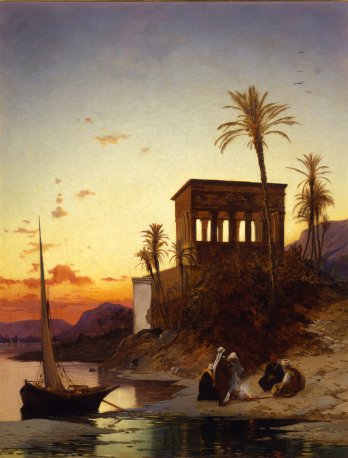 Corrodi gained an international reputation as a landscape painter, counting England's royal family among his patrons. He traveled to North Africa, Egypt, Syria, and Constantinople, where he acquired intriguing objects for his studio and amassed a wealth of motifs for his numerous Orientalist landscapes. The small temple on the sacred island of Philae (known as the Kiosk of Trajan, or Pharaoh's Bed), where ancient Egyptians worshipped the goddess Isis, was particularly appealing to Orientalist painters (see also the painting by Bridgman). Corrodi's balanced composition with its echoing rhythm of sail, palms, and columns, its delicate gradations of color, and its play of light and shadow typify his gift for picturesque documentation.