Hermann David Solomon Corrodi (Swiss-Italian, 1844–1905)
Campfire by the River: The Kiosk of Trajan at Philae
Oil on canvas, 33 x 25 1/2 in.
Signed and inscribed lower left: H. Corrodi. Roma
1995.20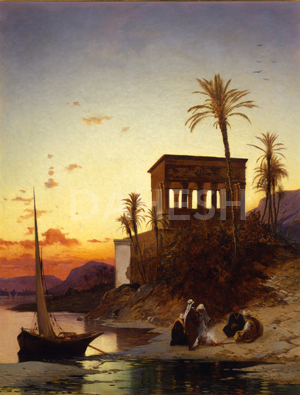 Corrodi first travelled to Egypt during the winter of 1876 to 1877. This trip proved inspiring for the artist, who subsequently visited and painted Egypt and other Middle Eastern countries several more times. In this image Corrodi synthesizes his strength as a landscape painter with that of his skills in genre painting, producing an intimate scene of Arab men by a fire, set against the dramatic backdrop of a temple on the Nile. Dedicated to the goddess Isis, the small temple (known as the Kiosk of Trajan, or Pharaoh's Bed) on the sacred isle of Philae was especially attractive to Orientalist painters because of its romantic quality (see also the painting by Bridgman). Corrodi's balanced composition, with its echoing rhythm of sail, palms, and columns, its delicate gradations of color, and its play of light and shadow typify his gift for picturesque documentation. Images of the Nile were especially popular in Europe, and multiple newspapers reported that the King of England, upon visiting Corrodi's studio in 1885, was transfixed for almost an hour and a half by his paintings of this area.