Hermann David Solomon Corrodi (Swiss-Italian, 1844–1905)
The Departing Caravan, Bethanin, ca. 1880
Oil on canvas, 39 1/4 x 25 1/4 in.
Signed lower left: H. Corrodi. Bethanin
1995.8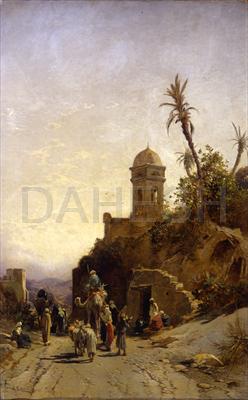 Corrodi made multiple trips to Egypt, the Levant, and Turkey in the 1870s and 80s, following his first visit in 1876. During these travels Corrodi prepared a large number of sketches and studies, which he then transformed into finished paintings back at his studio in Rome. Corrodi often signed these paintings with his name as well as the name of a city, very frequently Rome, suggesting where he may have painted the picture. The present picture, however, is signed Bethanin in the lower left hand corner next to Corrodi's signature. Bethanin corresponds to the biblical city of Bethany, where Jesus brought Lazarus back to life in one of his most important miracles. Bethany has long been identified as the modern city of Al-Eizariya, located in the West Bank, Palestine near Jerusalem. That the site shown in the painting is Bethany is further indicated in another version of this painting titled On the Road to Jerusalem (signed H. Corrodi, Roma). This information suggests that Corrodi worked on the present painting while actually in Bethany, facing towards Jerusalem.