Hubert Sattler (Austrian, 1817–1904)
View of Jerusalem from the Mount of Olives, 1847
Oil on panel, 14 1/4 x 24 1/2 in.
Signed twice and dated lower right: H. SATTLER/Hubert Sattler 1847
2012.17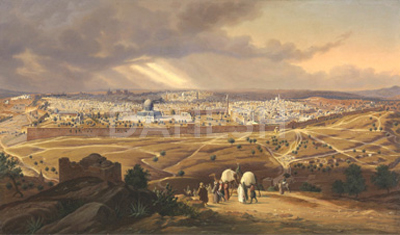 The vista provided by the Mount of Olives gave travelers a breathtaking view of Jerusalem, and many 19th-century artists produced views from this perspective. In his View of Jerusalem from the Mount of Olives, Sattler employs devices typical of panoramic views, dividing a dark foreground from a bright background and setting figures in the foreground to give a sense of scale. Sattler also infuses the scene with vivid colors, a dramatic sky, and a consistent level of detail throughout the painting, in stark contrast to David Roberts' similar but more muted depiction of the same scene (also in the Dahesh Museum Collection).