Isidore Jules Bonheur (French, 1827–1901)
The Horse Fair, 1901, after an earlier model
Bronze, 31 1/2 x 64 1/2 in.
Signed lower right: Isidore Bonheur/Sculpsit. Inscribed lower left: Rosa Bonheur. Pinxit1849.
Gift of Mrs. Mervat Zahid
1997.87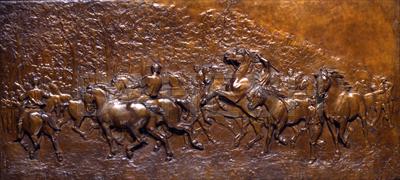 In her memoirs, Rosa Bonheur wrote of her brother, sculptor Isidore Bonheur, that she "did not want to risk hindering [his] artistic career, so I stopped exhibiting sculpture the day I became aware of his talent in this art." Although she refrained from showing her sculptures at the Paris Salon after 1848, the year Isidore had his first great success, she continued to exhibit them in provincial Salons alongside Isidore's work. They also collaborated on sculptures, and the individual works of the two siblings were often confused. Isidore won a gold medal at the Paris Universal Exhibition of 1889 and, like his brother Auguste (whose paintings are also in the Museum's collection), was named Chevalier of the Legion of Honor (1894). Lacking his sister's assertiveness or career savvy, however, Isidore never achieved great fame. In 1866 he was awarded the commission to model two stone lions for the entrance to the Palais de Justice in Paris, which the renowned animalier Antoine-Louis Barye had declined. His second and final public work was a sixteen-foot monument to his sister, dedicated in 1901 in the town of Fontainebleau. He modeled a life-size bronze version of Rosa's Striding Bull of 1846, which was placed atop a pedestal adorned on four sides with bronze reliefs. Isidore also executed three of these reliefs, which reproduced Rosa's most popular paintings.Plowing in the Nivernais (1849, Musée d'Orsay, Paris), a powerful image of man and beast tilling the French soil, was Rosa's first great success. The Horse Fair (1853–55, Metropolitan Museum of Art, New York), her masterpiece, established her international reputation and was shown in England and America. This bronze relief acknowledges the work of brother and sister with the inscriptions: Rosa Bonheur Pinxit / Isidore Bonheur Sculpsit (Painted by Rosa Bonheur, Sculpted by Isidore Bonheur). All of the bronzes on the monument were scrapped and melted down in 1941, and only two casts of Isidore's original bronzes have survived, including this pair.