Isidore-Alexandre-Augustin Pils (French, 1813–1875)
Seated Arab, ca. 1861–62
Oil on canvas, 10 3/4 x 10 1/4 in.
Signed lower left: I. PILS
2002.28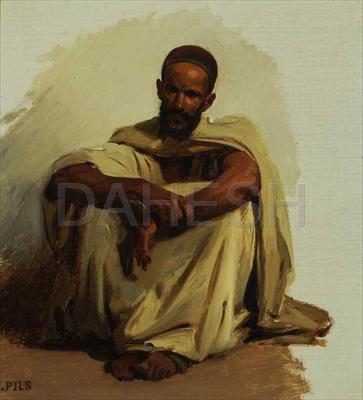 Pils was commissioned to paint the reception of Arab chiefs by Emperor Napoleon III during the ruler's visit to Algeria in 1860 (1867, untraced). Pils went there himself in 1861–62 to study the landscape and its population. The freshness and immediacy of this oil sketch of a seated man suggest it might have been created on the spot during that visit. Pils, along with his more famous colleagues, Alexandre Cabanel (1823–1889) and Jean-Léon Gérôme (1824–1904), was one of the original three professors of painting installed at the École des Beaux-Arts in the momentous reforms of 1863. Before that date, only drawing was taught at the École, and students learned painting in private ateliers.