Isidore-Alexandre-Augustin Pils (French, 1813–1875)
Lamentation
Oil on canvas, 10 x 12 in.
Signed lower right: I. PILS
2002.29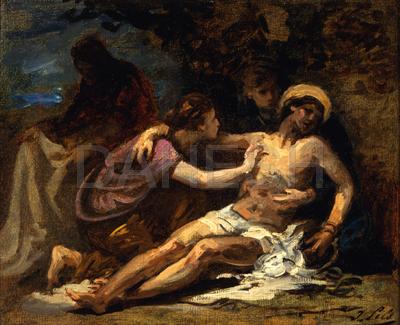 This small oil sketch appears to be a preparatory study for one of the decorative projects Pils executed in the Paris churches of Saint-Eustache (1854) and Sainte-Clotilde (1858). The Lamentation is an important theme in Christian art, especially popular during the 19th century. Although Pils' freely painted technique here is associated with the Impressionists, it was an integral part of the academic process as a first step or sketch in the development of a finished composition.
The son of the painter François Pils, Isidore first entered the atelier of Guillaume Lethière at age fifteen and later moved to that of François-Edouard Picot. He won the 1838 Prix de Rome for study at the French Academy in Rome, then directed by Jean-Auguste-Dominque Ingres. In 1863, Pils was appointed one of the first three painting professors installed at the École des Beaux-Arts, and, in 1867, he became an Officer of the Legion of Honor, then a member of the Institut de France in 1868. Pils is best known for religious and military subjects, and some portraits.