Jean-Achille Benouville (French, 1815–1891)
Landscape with Animals, 1842
Oil on canvas, 22 x 18 3/8 in.
Signed and dated lower right: Achille Benouville. 1842
1999.1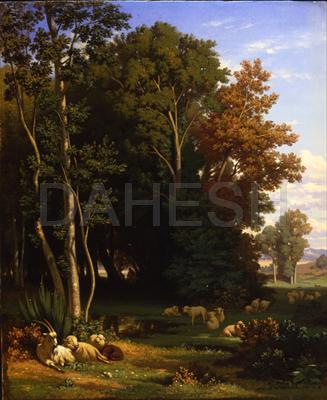 Benouville first exhibited Landscape with Animals at the 1842 Salon, where it was well received by a writer for L'Artiste: "The landscape with animals by M. Benouville is second to no other, with regards to its distinction and its elegance." Benouville's lithograph of the painting ran alongside the article, which also praised his deft treatment of light, care in depicting the animals, and composition. Benouville's attention to such details is well documented in a series of preparatory studies, now in the archives of the Louvre, for the painting. These drawings underscore the rigorous process of preparation and study that the Academy asked of its students. This process was an important aspect of the classical landscape formula visible in this painting, which included a smooth transition from foreground detail to background vista, carefully delineated trees and leaves, and balanced arrangements of figures.