Jean-Hippolyte Flandrin (French, 1809–1864)
Female Nude
Graphite with watercolor wash, 10 1/8 x 7 13/16 in.
Signed lower left: H.F.
Gift of DeCourcy E. McIntosh
2003.30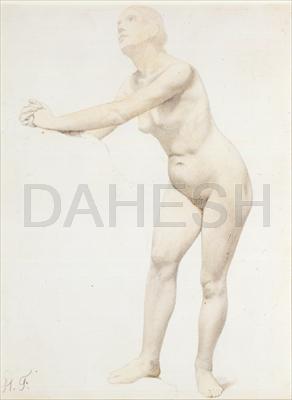 This drawing may be either a figure study for a work that has not been identified or an example of a life drawing that was used as a teaching aid for art students. Here, Flandrin depicts a nude female, a common academic practice to elucidate both pose and anatomy of the figure. The subject appears to rest her arm on a prop –which the artist barely indicates, and perhaps not at first noticeable– so that the model may maintain the pose. Her gentle upward gaze and outstretched arms with clasped hands imbue the image with spirituality, suggesting a traditional woman's pose in a biblical subject.
Flandrin began studies with Jean-Auguste-Dominique Ingres in 1829, who became his mentor and friend. In 1832, Flandrin won the Prix de Rome becoming the first student of Ingres to do so. Profoundly religious, he specialized in religious subjects and worked on many large-scale Parisian church decorations. He also produced many portraits. Acknowledged as France's leading 19th-century religious painter — and compared to Fra Angelico! — Flandrin had a brilliant career. In 1853, he became an Officer of the Legion of Honor, a member of the Institut de France, and, in 1857, he was appointed professor at the École des Beaux-Arts in Paris.