Jean-Jacques (called James) Pradier (Swiss (active in France), 1790–1852)
Pietà, or Lamentation, after 1847
Bronze, 11 1/2 x 7 x 8 in.
Signed on base lower right: J. PRADIER
Gift of Charles Janoray
2001.8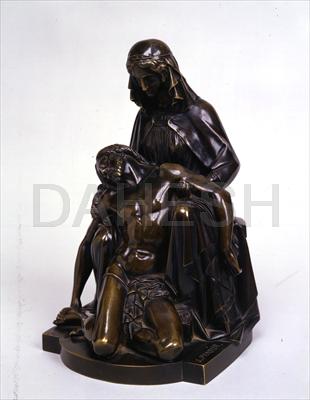 Pradier was recognized for his sensuous classical female figures, although he also produced religious works throughout his career. This devotional image of the Virgin Mary and Christ recalls medieval Pietàs thanks to the Virgin's static, frontal pose and the vertical fall of her drapery. The critic Théophile Gautier noted that the Christ figure looked "archaic and Byzantine." The triangular composition reflects the Trinity (God the Father, Jesus Christ the Son, and the Holy Spirit). This small bronze is one of several that Pradier authorized to be cast after the large marble version he exhibited at the 1847 Salon (later purchased for a small chapel near Toulon).
Pradier won the Prix de Rome for sculpture in 1813 and later became a professor at the École des Beaux-Arts and member of the Institut de France. He was the leading sculptor of his time, favored by King Louis-Philippe (reigned 1830–48), and received numerous commissions, including works for the historical galleries at Versailles, the Palais Bourbon, the Church of the Madeleine, Napoleon's tomb at the Invalides, and the Arc de Triomphe.