Jean-Antoine-Jules Lecomte du Nouÿ (French, 1842–1923)
Antiope and Jupiter, 1889
Pastel and charcoal on brown paper, 25 1/2 x 21 1/2 in.
Inscribed, signed, and dated lower right image: A ses amis G. Des Fossez Lecomte du Nouÿ. 1889, upper left: ANTIOPE, upper right: JUPITER
2002.21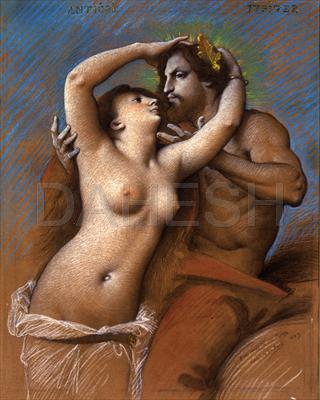 Antiope was a Theban princess seduced by the god Jupiter (the Roman name for Zeus) who came to her in the form of a satyr, one of his many alluring guises. This highly finished pastel, bearing the inscription Antiope-Jupiter, may be related to or is possibly a preparatory study for Lecomte du Nouÿ's The God and the Mortal Woman exhibited at the Salon of 1891. Both works depict a sensual, mortal woman embracing the immortal Jupiter, while the final painting includes a putto carrying a flower and a ring. Lecomte du Nouÿ's depiction is clearly an artistic homage to the Jupiter and Thétis (Musée Granet, Aix-en-Provence) exhibited in 1811 by Jean-Auguste-Dominique Ingres, a painter he greatly admired.
Born into a noble Piedmontese family, he combined the family names of his father (Lecomte) and his mother (Dunouy) into Lecomte du Nouÿ. He studied at the École des Beaux-Arts under Charles Gleyre, Émile Signol, and also Jean-Leon Gérôme, whose artistic beliefs would always remain his guiding force. While a prolific portraitist, Lecomte du Nouÿ derived his primary inspiration from classical and biblical subjects, as well as from scenes observed on his many trips abroad, especially to the Middle East.