Jean-Antoine-Jules Lecomte du Nouÿ (French, 1842–1923)
At the Tomb of the Virgin, Jerusalem, 1871
Oil on panel, 14 7/8 x 11 5/8 in.
Signed and dated lower left: LECOMTE.DU.NUOY-1871
2001.13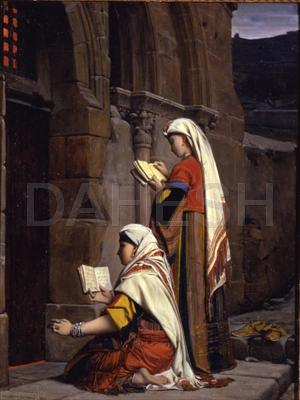 Lecomte du Nouÿ was one of the most distinguished students of Gérôme, whose artistic beliefs would always remain his guiding force. While a prolific portraitist, he derived his primary inspiration from classical and biblical subjects, as well as from scenes observed on his many trips abroad.
Muslims practicing their faith, praying in a mosque or elsewhere, constituted a popular subject in Orientalist art. This work illustrates the less common subject of Christians praying in the Middle East; here two women in colorful dress pray before the Church of the Tomb of the Virgin Mary in Jerusalem. Lecomte du Nouÿ devoted great care to the rendition of the women's distinctive garments, and the specific appearance of the arched doorway closely resembles that of the still-extant church. This precision suggests that he either worked from a photograph of the building or that he had visited the Holy Land.