Jean-Antoine-Jules Lecomte du Nouÿ (French, 1842–1923)
Judith, 1875
Oil on panel, 12 3/4 x 8 3/8 in.
Inscribed upper left: Judith; signed and dated upper right: LECOME DU NOUŸ / 1875
1999.3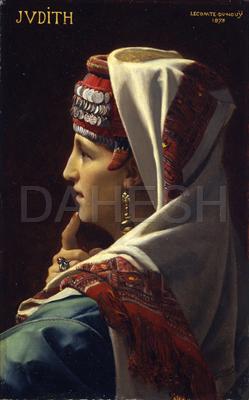 With this tender rendition of an ornately dressed woman's head in profile, Lecomte du Nouÿ straddled the realms of the Bible and the Orient. This Middle Eastern woman can only be identified as the apocryphal heroine Judith because her name is written in golden letters on the painting. Like Salomé, Judith was a Biblical femme fatale, yet in this composition she holds neither a sword nor the decapitated head of Holofernes. Indeed, this painting's primary concern is the studied depiction of facial expression and exotic costume. During his trip to Morocco, Lecomte du Nouÿ was much impressed with the elaborate costumes worn by the Jewish population. In this painting, the most conspicuous element is the shatweh, a headdress traditionally worn by married women from Bethlehem. It was made of quilted and padded linen that was then embroidered, and a bride-to-be would attach coins from her dowry in rows along the front.