Jean-Antoine-Jules Lecomte du Nouÿ (French, 1842–1923)
Study for The Death of the Virgin, ca. 1895
Red chalk, heightened with white, 14 1/2 x 17 in.
Gift of DeCourcy E. McIntosh
2001.14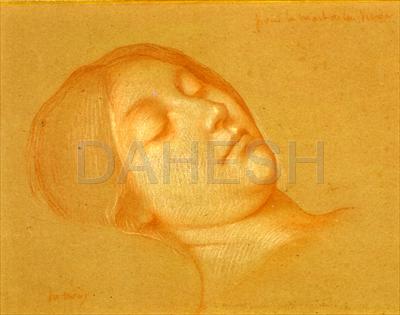 This is a study for one of a series of frescoes commissioned by the royal family of Romania for the chapels and choir of the Church of Saint Nicholas at Iassi. In the final version, the Virgin appears on her deathbed with her head cloaked and a severe expression on her face, painted, according to the artist, "after the local style in the Byzantine manner." In contrast, this preliminary drawing shows the Virgin's head uncovered and her facial expression soft and peaceful, looking more like the actual woman Lecomte du Nouÿ must have used as a model.
The art of Lecomte du Nouÿ was the subject of a major retrospective exhibition at the Dahesh Museum of Art in 2004. The monograph and catalogue raisonné that served as the catalogue to this exhibition can be ordered through the museum's Gift Shop.