Jean-Léon Gérôme (French, 1824–1904)
King Candaules, 1858
Oil on paper, adhered to canvas, 7 7/8 x 12 13/16 in.
2002.58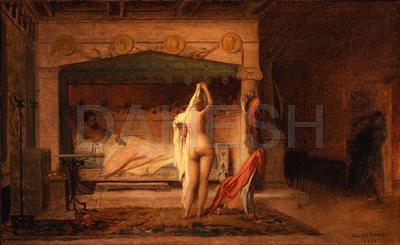 This is a preparatory oil sketch for a much larger painting shown at the Salon of 1859 (Museo d'Arte, Ponce, Puerto Rico) and exemplifies Gérôme's interest in reviving an ancient past based on careful historical research. His attention to archeological details made Gérôme a leader of the so-called néo-grec movement that culminated in the 1860s. Set in the mythical East, in Lydia, this episode unfolds in the bedchamber of the king, Candaules. While his wife, Queen Rodolphe, slowly undresses, Candaules's favorite lieutenant Gyges watches from the doorway, having been invited to do so by Candaulus, who vainly wishes to flaunt his wife's beauty. Rodolphe is enraged and, at her request, Gyges later assassinates the king and assumes the Lydian throne himself.
Gérôme's image was interpreted in two ways: some thought it depicted the moment when Gyges first saw Rodolphe, while others saw it as just prior to the king's death, with the disrobing queen providing a distraction. The legend is recounted by the ancient historian Herodotus, but Gérôme was more likely to have taken it from one of his champions, the writer and critic Théophile Gautier, who published his own version of the story in serial form in 1844. Gautier's novella offered a similarly detailed description of the king's bedchamber and dwelt at length on this scene, which the writer called one of "visual adultery."