Jean-Léon Gérôme (French, 1824–1904)
Rachel, 1859
From Gérome, A Collection of the Works of J. L. Gérome in One Hundred Photogravures published in Edward Strahan, ed. New York, Samuel L. Hall, 1881
Photogravure
1997.62i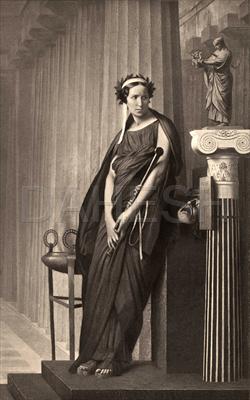 This photogravure after Gérôme's portrait of the famous actress Rachel Félix (1821–1858) was first published in 1860 by Goupil for the "Photographic Gallery" of Gérôme's paintings. Gérôme was the son-in-law of the dealer and publisher Goupil, who contractually reproduced all of Gérôme's paintings before they were sold to individual clients. Through these reproductions the works by painters like Gérôme, Cabanel, and many others became well known among a large audience. These reproductions appeared in books, journals and could be bought individually, and thus created a demand for the original paintings among the wealthier collectors in Europe and the United States.
The Dahesh Museum of Art possesses an almost complete set of these photogravures.
For an extensive exposé on the relation between Gérôme and the firm of Goupil, see the exhibition catalogue: Gérôme & Goupil, which is available through the Museum's Giftshop.